Injection Moulding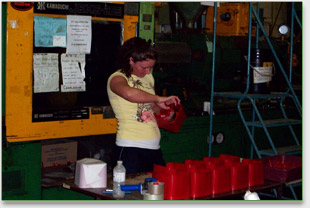 We are manufacturers of custom injection moulded products for both technical and non technical applications. Please feel free to email us for to receive a digital catalogue or to request a quote.
An expert and dedicated team provide high quality and cost effective solutions for tooling and component requirements. This has been demonstrated many times through working in close partnership with our customers to thoroughly understand their product aspirations.
Our service from tool manufacture to production is matched by our reputation for meeting delivery schedules including J.I.T.
Over thirty years of combined toolmaking and complex moulding expertise, Queensway prides itself on providing a professional and tailored service to each client.
Capabilities
Mould Design
New Mould
Construction
CAD/CAM
Engineering
Insert moulding
Precision moulding
Assembly and Secondary Operations eg. UPC label printing, pad printing and assembly
Example of parts made by plastic injection moulding include
Enclosures
Brackets
Toy Parts
Ready-to-assemble furniture hardware/products
Appliance parts
Types of plastics used
Commodity and engineering resins
Glass filled options
Copolyester (bpa free)
Acrylonitrile Butadine Styrene (ABS)
High Impact Polystyrene (HIPS)
Acetal
Low to High Density Polyethylene (PE)
Acrylic -Impact Modified, Diffused, and Ultra Clear
Polycarbonate
Thermoplastic Elastomers (TPE)
Rigid PVC -Opaque and Transparent (RPVC)
Flexible PVC -65 to 95 durometers (FPVC)
Re-processed, Recycled and "Green" material options
Foaming agents
Custom Color Matches
Other materials as requested
Assembly
Our customers make their business tick, which is why we offer full assembly that provides you with a complete project management service on one site. Using top of the range, purpose-built equipment, we can provide leverage, secure components, and simultaneous assembly of multiple components.